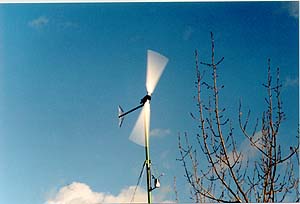 Our Whisper 175, 3000 watt wind turbine
We are dealers for renewable energy equipment and deal with all the equipment you need to be totally independent. Water purification; treatment of all types of water sources. Solar and wind power for homes, cabins, business, and RV's. High efficiency solar heating panels for hot water heating to heat your home. We use the products we sell and know how it all works.
We support solar education and carry books on solar and wind energy and small solar powered products like radios, flashlights and battery chargers.